THE AUDICATOR
INTELLIGENT TURN SIGNAL WARNING SYSTEM
Our innovative British designed and manufactured system uses state-of-the art technology to monitor your turn indicators and provide an audible tone after a user selectable number of indicator flashes. The initial 'soft' tone progressively increases in volume until the rider is alerted and cancels the indicator – simple!
But there's more – the system cleverly links into the vehicle brake light circuit so that operation of either brake immediately resets the Audicator timer and silences the system should your turning manoeuvre be interrupted.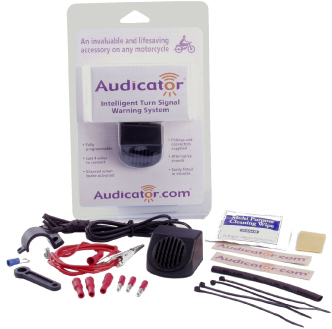 The Audicator doesn't start sounding as soon as the indicators are activated,
but has a number of silent flashes before the sound starts.
Take our core product – the Audicator audible turn indicator warning system. Derived from a real need, highlighted by motorcyclists, and recognised by authorities as a major reason for driving test failure and a cause of serious danger to road users.
The understanding of the risk may not be new, but the method of execution and innovation in this design is something very special – and we are rightly proud of it!
With our mix of engineering knowledge and resources, we are perfectly placed to research and understand the market requirement, build a detailed technical product specification, then see this through from the early concepts right up to production.
As such we openly welcome any new design concept challenges you may wish to put forward and the opportunity to work with others to facilitate the realisation of their ideas.
QUICK FITTING
INSTRUCTIONS
DETAILED FITTING
INSTRUCTIONS
AVAILABLE, GET IT NOW!
INTELLIGENT TURN SIGNAL WARNING SYSTEM
INTELLIGENT TURN SIGNAL WARNING SYSTEM
INNOVATIVE BRITISH DESIGNED & MANUFACTURED SYSTEM
Your Audicator is supplied pre-programmed but can be easily customised to suit your own preferences.
Delay time from indicator start to sound start, volume ramp up rate, sound selection and even an option to have an alternative sound when the hazard lights are activated are just some of the software options available.
All without removing the unit from the vehicle!
SAFETY FIRST
Road users tend to routinely leave their indicators on unintentionally after performing a turn manoeuvre, exposing themselves to potentially dangerous misinterpretation of their intentions by other road users.
FREQUENTLY ASKED QUESTIONS
I fitted the 'Audicator to my Morgan +8 the combination of wind noise and a not always efficient cancel mechanism, found it invaluable.
I fitted the Audicator to my Morgan Plus 4 and I'm over the moon with it. Difficult to see the dash lights when the hood is down but the Audicator eliminates the problem. Good instructions, easy to fit and it does exactly what it says on the tin. Would recommend to anyone.
I purchased this product for use in an open top sports car. Not hearing your indicators as you are motoring along is a problem and potentially dangerous for the cars behind you. Easy to fit and easily heard. There is No chance I will leave my indicators on again. Thank You.
We've using the Audicator not for bikes but for our vintage cars and the Super Seven, we're specialised in. The Audicator-team is always very helpful with any kind of support and offer the best solution to any problem. Business with them is a real pleasure!
I've mounted this clever and thought-through device in my Caterham. Now I really hear when my indicator is left on. The configuration is fairly easy and flexible enough to adapt to my needs. Thanks for helping me solve this!
I have been on 2 wheels all my life and know only to well no matter how good a rider we have all left our indicators on at some point. To a motorcyclist this could be fatal! The Audicator gives you the ability to programme easily the parameters to your requirement but I found the default settings fine. The device is easy to fit and well made Thanks for a great product
We are really interested in receiving any feedback or suggestions from you. So for more information or to send us some suggestions,
please fill out the enquiry form below. Following this we will get back to you as soon as possible.